i2Verify Employment Verification Guide to Happy, Productive, and Engaged Employees!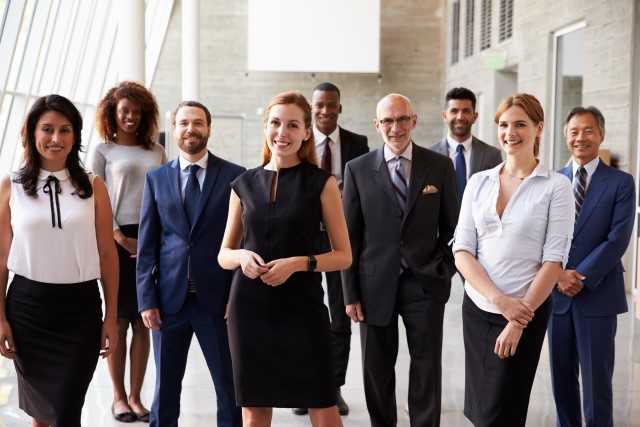 Welcome to this Human Resources (HR) guide to creating happy, productive and engaged employees from the employment verification professionals at i2Verify.
As an HR professional, you are probably acutely aware that 7 out of every 10 American workers are either disengaged or dislike their jobs. This shocking statistic is based on an extensive ongoing study conducted by Gallup regarding the American workplace. Management puts pressure on HR to improve these statistics at your company, but it is so very hard to do given everything else you have on your plate.
To paraphrase Leo Tolstoy: Top-ranked companies are all alike, but every lower-ranked company is lower-ranked in its own way.
Based on the results of the Gallup study, it might stand to reason that a majority of employees who are disengaged or unhappy with their jobs are therefore working for lower-ranked companies. People who are unhappy at their jobs are certainly not going to give very high satisfaction rankings to their employer.
So what can your HR department do if your company is among the majority that are not top-rated? Do you simply rely on the survey results as proof and accept that your employer and its employees are mediocre? Even worse, do you ignore the results and fail to help employees improve, assuming that it is the company's fault that it is not top-rated?
Or, do you take action by determining why other employees rate their companies so highly, and implement methods in your own company to help your employees improve? If you choose the latter, further research will reveal that three terms are consistently used by employees of top-rated companies to indicate why they enjoy working for their companies.
In reading employee reviews of top-rated companies such as the one found in GlassDoor's latest Best Places to Work survey, three descriptions appear frequently:
1) Autonomy
2) Purpose
3) Transparency
In this guide we will take a look at each of these concepts, and think about ways you can utilize them with your own staff. Then we'll discuss how the concept of employment verification ties in perfectly with each of these three concepts to help create and maintain a happy, productive and engaged workforce which agrees that they are indeed working for a top-rated company. Our goal is to simplify the process so you can concentrate solely on performing your HR tasks.
How Autonomy Leads to Happy, Productive and Engaged Employees
In his groundbreaking book, Drive, Daniel Pink shows that employees work best when they have pure intrinsic motivation, much like children. According to the book, this motivation comes from having autonomy, purpose, and the freedom to practice mastery.
Pink gave a Ted Talk on the subject in 2009 under the title, The Puzzle of Motivation. A popular quote from his book highlights the research that led to its creation:
"Human beings have an innate inner drive to be autonomous, self-determined, and connected to one another. And when that drive is liberated, people achieve more and live richer lives."
Autonomy is often inaccurately confused with just letting employees do whatever they please. This is actually the opposite of what employees with autonomy describe. When happy employees discuss autonomy, they first point out that their leadership defines a set of goals or objectives. It is then up to the employees to determine the best way to achieve those goals.
Whether or not employees need a little more structure or guidance, they all still feel autonomous. For example, whereas one employee may excel by just knowing the end goal for a project, another employee may require a break-down of smaller goals. This knowledge is important in ensuring each employee gains true intrinsic motivation. By definition, employees reach true intrinsic motivation on their own simply by choosing their own methods to reach a goal.
Since there are various ways to manage a diverse set of employees, HR can recommend different ways that autonomy can best be gained to those in management roles. This is not a small task as it requires differentiating goals among employees; however, autonomy remains a common factor with goals being realistic and achievable. As you are well aware, goals that are not realistic and achievable run the risk of employees feeling powerless and dejected.
Many interchange the terms autonomy and empowerment, but this is also inaccurate. Empowerment is important for employees as well, but it is not the same as autonomy. Whereas autonomy expects employees to fulfill the goals set by successful companies on their own, empowerment enables the employee to complete the work, all under the watchful eye of management and HR. If employees are truly empowered, then they will work to complete the goals on their own. In a revealing interview Daniel Pink further delineated the two concepts, while sharing his lack of enthusiasm for empowerment.
How Purpose Leads to Happy, Productive and Engaged Employees
As important as autonomy is, purpose is even more necessary to maintain happy, engaged, and productive employees for the long-term. Autonomy is usually considered short-term in nature as it applies to tasks that are completed on a daily basis to reach a specific goal. Once the goal is reached, new goals are provided.
But, if there is no all-encompassing reason for reaching those goals, employees run the risk of becoming disengaged, unhappy, and unproductive. Life begins to look like a never-ending treadmill if work becomes just a series of short-term goals.
Purpose is what provides the all-encompassing reason that drives employees toward the short-term goals in the first place. Two quotes succinctly crystallize this idea:
1) The philosopher Nietzsche said, "He who has a why to live for can bear almost any how."
2) In one of the ten most influential books in America (according to a Library of Congress study), Man's Search for Meaning author, Viktor Frankl, said, "The will to find meaning is the basic motivation for human life."
Regardless of whether your company manufactures office supplies or provides life-saving care, the need to identify a purpose is real and required. In his book, Start With Why, Simon Sinek also provides answers to the question of why some people and organizations are more innovative, more influential, and more profitable than others. Through the use of his Golden Circle, he shows that inspirational companies and leaders lead from the inside out starting with the "why" or purpose, and then providing the "how" and "what." He summarized his main points in an informative Ted Talk .
While companies providing a purpose is helpful, HR knows that shaping the purpose correctly is critical. If the purpose is too abstract, such as "we save lives," it runs the risk of being ignored as too general to follow. Convesely, very detailed purposes are also difficult to follow. In larger companies, especially, it might be necessary to set a purpose per group or department that is aligned to an overarching company goal.
Possibly the best approach to take for determining a purpose is to begin asking questions until a purpose is revealed. For example, why do you get up in the morning for work? Why do your customers depend on you? What would happen if you were no longer in business?
Another method that can be used is "time travel," where an HR representative directs employees to mentally travel both back and forward in time while answering key questions such as what drove them while young or what will they look back on at the end of their life. Doing so helps to discover purpose drivers from the past and possible behavior changers for the future.
If defining a purpose that works well for a department or the whole company seems to be too difficult, another suggestion is to incorporate personalized purposes into your company. Employees may find using their personal purpose as their "why." For example, "I work hard in manufacturing office supplies to show my children and community that a good work ethic enriches your life."
How Transparency Leads to Happy, Productive and Engaged Employees
Does your HR department know what employees mean when they say they like transparency? As with autonomy and purpose, transparency is defined differently among employees.
Based on the reviews of top-rated companies, employees say that transparency means visibility into a company's operations, including its decision-making process.
Ray Dalio, founder of the investment firm, Bridgewater Associates, revealed in a Ted Talk just how important transparency is to his company's culture and success.
Using the term "radical transparency," Dalio explains how every employee's decisions are tallied in meetings and rated based on the reliability score for each employee. Doing so uses an analytics-driven process that removes emotion from the equation to create an idea meritocracy.
Expert Choice, a pioneer in decision making software, used a blog post to explain just how important effective decision-making is to companies.
Although many companies rate effective decision-making as an important business skill, few actually train employees on the best methods to use for consistency in solid decision-making. Dalio noted that it takes about 18 months for approximately 75% of employees to find that they prefer the company's radical transparency method to a standard, more opaque process.
By instituting training that shows employees how to be effective and consistent decision makers, your company may be able to realize just as impressive results as Bridgewater achieves, but in far less time. Additionally, by allowing for transparency in both the decision-making process and the results, your employees can be provided with insight into the company's strategy and vision.
What can HR do if employees want to see transparency in such touchy subjects as salary and bonuses? Some companies have indeed achieved success in the area of monetary transparency. One company, Buffer, actually provides employee salaries via publicly available spreadsheets along with the formula that is used to determine those salaries.
Still, most companies strongly discourage the sharing of salary or bonus information for privacy reasons, or they are hesitant to share a formula which shows how salaries are determined for competitive reasons. In these cases, you might bring in an independent vendor to complete a salary review, and post the general results by department, in an effort to show that the company is at least working toward transparency.
An important first step is to work with employees to determine what transparency means to them. HR can then work with the leadership team to provide the tools necessary to show employees the importance transparency has in your company, and the steps the company is willing to take to increase transparency.
Traveling the Road to Happy, Productive Employees
Unfortunately, the road to increasing employee autonomy, purpose, and transparency is not a well-traveled one, which is probably why many companies never gain top-rated status from employees.
The good news is that even minor increases in autonomy, purpose, or transparency can make a big difference in a relatively short period of time. As an HR administrator, though, the thought of even trying to tackle autonomy, purpose, and transparency, as noble as they are, can sometimes seem like an unreachable dream.
How can we focus on autonomy, purpose and transparency when our "real HR work" keeps getting in the way?
This is a common issue and one that can easily be managed by breaking down the larger goal into subgoals. Rather than trying to establish programs for autonomy, purpose and transparency simultaneously, separate each initiative into manageable actions, and measure results along the way.
Start with purpose, or the "why." Without purpose, employees can become adrift in a sea of despair. With purpose, there is no problem which cannot be solved.
Once your company has the why, determine short-term goals and give select employee's autonomy to complete those goals. Goals can be increased over time in both importance and scope until all employees have autonomy over both short- and long-term goals.
Transparency will most likely be the trickiest of these three items as established procedures are not easily changed, so it is best to recommend starting with small actions. Simple ways of showing transparency might include sharing calendars, work projects, tasks, goals and status on a departmental level. Over time corporate leadership may be willing to share some or all of the same items in order to give employees a better understanding of the projects the company is undertaking to reach its goals.
As you travel this path, be sure to provide management with plenty of data including both anecdotal and measurable differences in morale and performance. Are employees happier, more productive and more engaged? At various points in the process, ask if they feel differently about their work now, and find out why. Conduct anonymous surveys, and share the results to show corporate leadership how these simple changes can lead to better employee engagement. Eventually, the whole company will start following your lead, resulting in an entire happy, engaged and productive workforce. Once achieved, gaining the coveted top-ranking status might not even seem so important any longer!
How can Employment Verification Add to Employee Happiness?
One thing you know for sure in HR is that worker happiness isn't just about what happens in the workplace. Employees have lives outside the office, and often bring what happens at home to work with them. If they are focused on the fact that they do not have a place to live, cannot get to work, or are having problems qualifying for certain social services, then getting work done will be the last thing on their mind. This greatly affects productivity, job retention and employee morale, and can make your department look ineffective.
One area where life events and work life often overlap is in the need for workers to obtain employment verification when they are trying to take certain steps in their private lives.
When purchasing a home, for example, the bank or lending agency will routinely request employment or income verification before the mortgage can be finalized. If this crucial data is not provided, or the bank receives inconsistent or incorrect data, the employee may run the risk of having the life event of purchasing a home denied.
Having a life event denied is a very stressful experience, especially when dealing with the already stressful experience of finding a home and thinking about moving.
The same holds true for government assistance requests. When employees request government assistance, the government agencies involved require specific wage and employment verification reports prior to granting approval. Some well-known government programs that mandate employment verification before approval include Medicaid, food stamps, Social Security, child support, and many housing support programs.
Some employees view having a new car as important to their social standing. When they want to purchase a new one, fast and accurate employment verification is an integral part of the process.
With this in mind, companies should exercise great care and do everything possible to ensure that the verification process runs efficiently, so that it does not stand in the way of helping to facilitate these life events and fulfill those internal needs.
HR Employment Verification Dilemmas
For most organizations, managing employment verification programs is an administrative burden that is shared between departments and staff. The administrative burden comes from the significant turnaround time, limited hours of availability, and an inconsistency in what information is returned to verifiers. When coupled with competing priorities, this leaves HR personnel feeling frustrated and employees feeling unhappy because they do not know what information has been provided on their behalf while waiting for a response.
Another dilemma is how to ensure that employment verification is in compliance with the Fair Credit Reporting Act (FCRA). Employers that are not in compliance can face legal problems because they may be harming their employees by not properly protecting their private information.
Fortunately, there is a solution to these HR dilemmas - outsourcing employment verification. A professional employment and income verification company provides instant access to employment data to authorized verifiers, such as banks or government agencies, on behalf of its employer clients. These entities need to receive employment verification reports with a detailed picture of an employee's employment history, not just a boilerplate employment verification response. This ensures that verifiers or requestors like mortgage companies and government agencies get the information they need to quickly and accurately make lending or benefit decisions.
With an automated employment verification process in place, all involved parties can benefit quickly. Verifiers such as banks or mortgage lenders can instantly confirm employment information so mortgages can close quickly. Approval for government services can be granted more quickly, thereby allowing the employee's living needs to be met as soon as possible. And car loans can be approved, so the employee can soon be driving around town in the car of his/her dreams.
Best of all employees can determine exactly when their employment verification was submitted, and can even control which verifier has access to their information. While all this is going on behind the scenes, the HR department, can simply continue to focus on other critical areas of business instead of micromanaging the employment verification process.
Interested in a download of this guide or speaking with us? Please contact us here.